WEST SUSSEX
Ardingly TQ 337287
Ardingly Forge was reused as a fulling mill, but the site now lies beneath the reservoir. However, the remains of Ardingly Furnace Pond, established by Francis Challoner circa l597, survive nearby at Great Saucelands, on a footpath east of the reservoir bay.
Chiddinglye Woods, West Hoathly TQ 346318
Established by Thomas Mitchell circa 1546, Chittingly Manor Furnace Pond lies within Chiddinglye Woods on private land. However, one of its pen ponds is accessible and another visible from a slippery path and bridleway which follow a bridge over the stream. This broadens into a chain of pen ponds still on private land but just visible from the eastward path. Straker believed the main pond was too small to power a furnace efficiently.
Chithurst, near Trotton SU 846236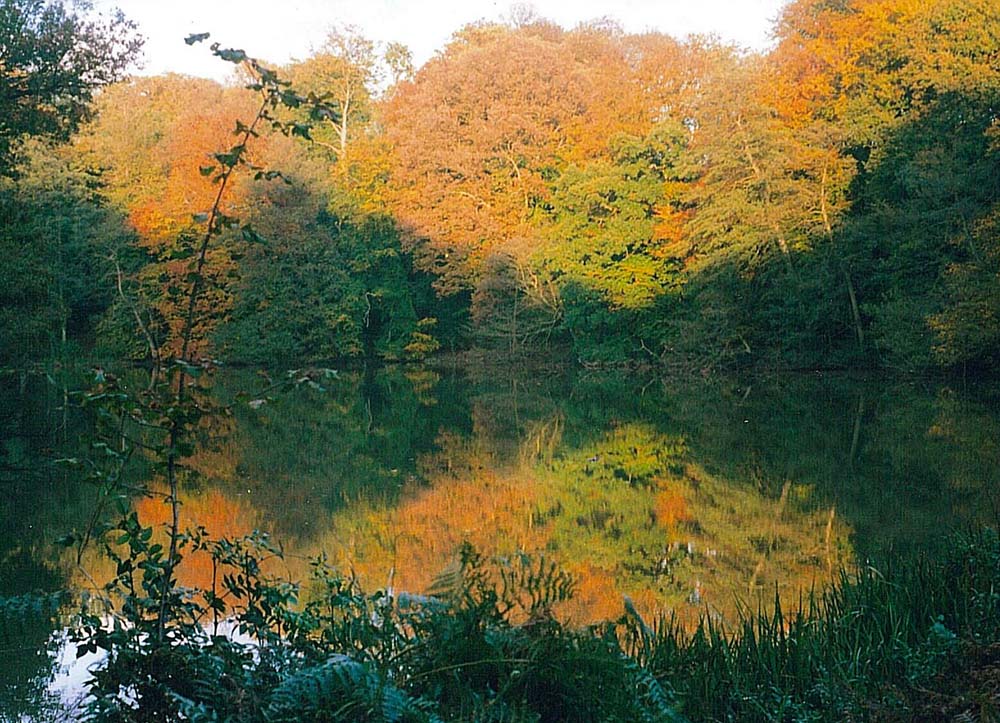 Chithurst Forge Pond, once also known as Iping Forge, was operated by Peter Bettesworth circa 1632. The Hammer stream runs south from Chithurst Forge's associate Milland Furnace Pond.
Crabtree, Lower Beeding TQ 228251
This pond lies within Leonardslee Woods, the lowest in a chain of ponds that served Gosden Furnace, operated by Roger Gratwick in l580. The other six pen ponds were later converted into ornamental lakes within Leonardslee Gardens, slightly north of the site. There is no longer public access to these gardens.
Crawley Down TQ 348393
Edward Gage of Hedgecourt Manor leased his Hedgecourt Furnace here to John Thorpe in 1574, who managed it in conjunction with Woodcock Forge (see Wiremill and Hedgecourt Lake, Surrey). This site, also known as Millwood but renamed Warren Furnace by 1758, was once an important supplier of ordnance, but was abandoned by 1779. There is an interesting stepped stone spillway (restored post-ironworks) on the footpath here.
Ebernoe Furnace Pond, Kirdford SU 974277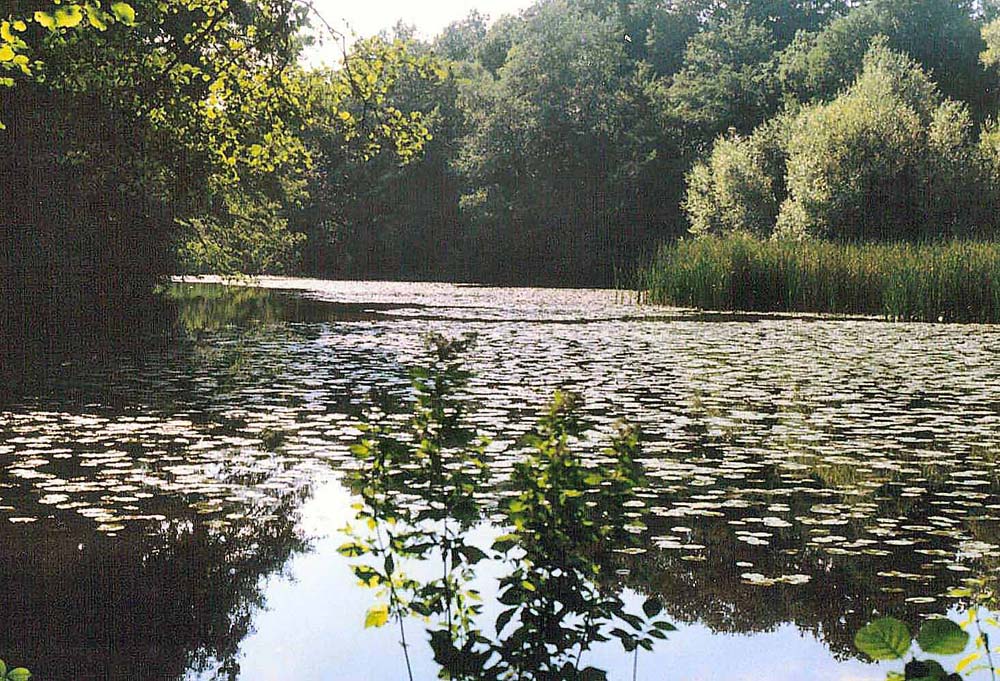 Ebernoe Furnace Pond was established in 1594 by the Smythes of Wassell to make pig iron for Wassell Forge, at Kirdford. The waters are hidden in woodland on the large Ebernoe Common, an ancient woodland and nature reserve managed by the Sussex Wildlife Trust.
Fernhurst SU 879283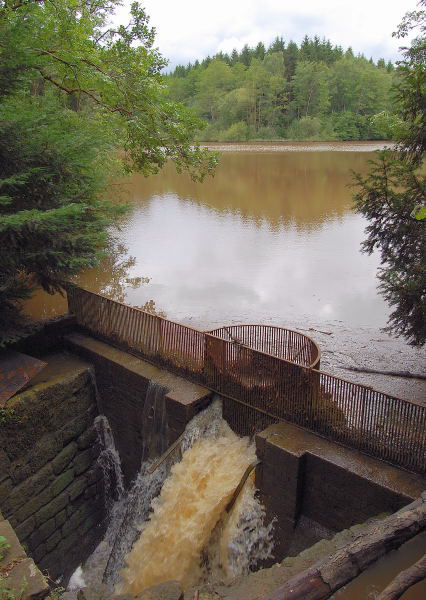 The original furnace here was called North Park, operating by 1614 and leased by William Shotter. The pig iron made here supplied Pophole Forge (see Hampshire). Later, circa 1762, John Butler made cannon at this furnace, but it seems to have ceased work around 1777. The ore was dug from Minepit Copse and Furnace Wood, west and east of the pond respectively.
Despite considerable water erosion this is probably the best-preserved ironworks site to view, in that some foundations of the furnace and tailrace remain and are clearly visible from the bay. These were extensively excavated and labelled by the current owners and the Fernhurst Society. Given recent flooding more conservation work is planned to rebuild and protect the bay and the bridleway atop it. An interesting book devoted to this site is available, compiled by John Magilton and others and published by Chichester District Council (see Sources). The annual Fernhurst Furnace Open Day offers historical entertainments (including cannon firing) as well as detailed tours: www.fernhurstsociety.org.uk/furnace.html
Handcross TQ 274294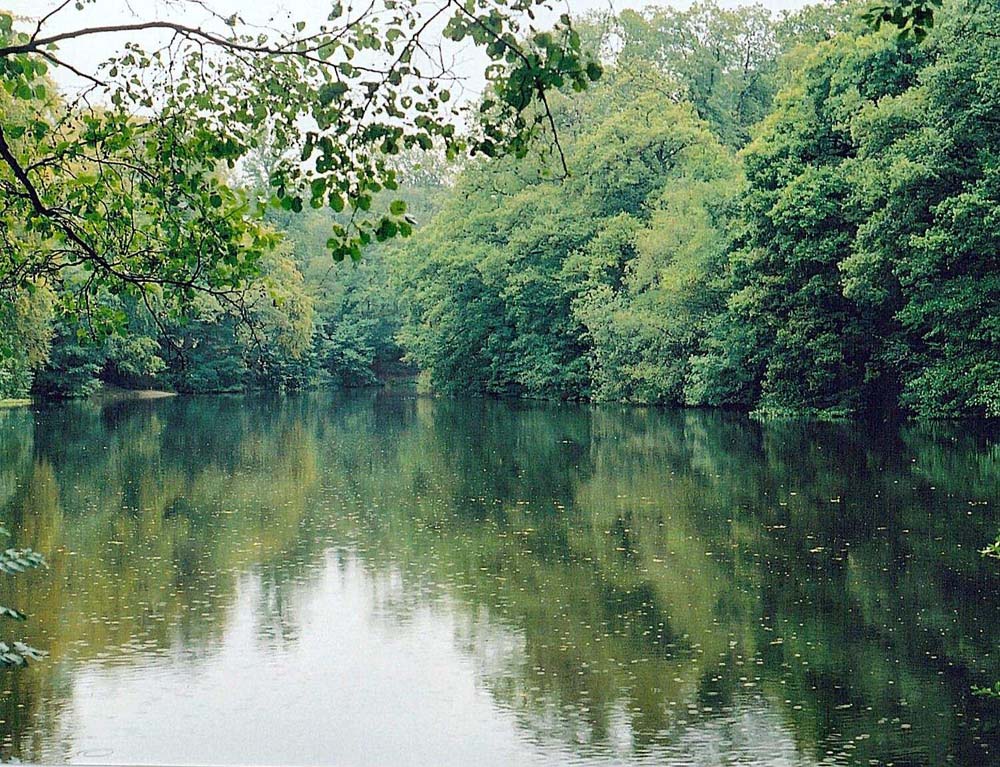 Blackfold Furnace Pond was established by Ninian Challoner in 1574. However the present bay at the GR above is a modern rebuild. The original furnace bay was yards downstream, and the working area below the eastern spillway. The furnace slagheap remains, now covered by grass. The pond now lies within Nymans Gardens and is accessible.
Horsham TQ 193292
Old postcard of Birchenbridge Forge Pond
Birchenbridge Forge, originally owned by John Caryll in 1598, is not documented after 1627. The forge pond, later much enlarged, borders the busy A281 south of Horsham, and is now a private fishing lake. Roosthole Pond, upstream (204295), was probably a pen pond for the forge, fed by Sheepwash Ghyll in the ancient St Leonard's Forest. This is also a private fishing lake.
Horsted Keynes TQ 379287
Beautiful Horsted Keynes Furnace Pond has a mill with waterwheel, not currently operating, nearby. During the mill's construction the original furnace site was flooded. William Barrantyne established the furnace circa 1544. The pond bay is on private land, but a footpath runs alongside the pond and past a modern spillway built over the original ironworks sluice.
Ifield, near Crawley TQ 245365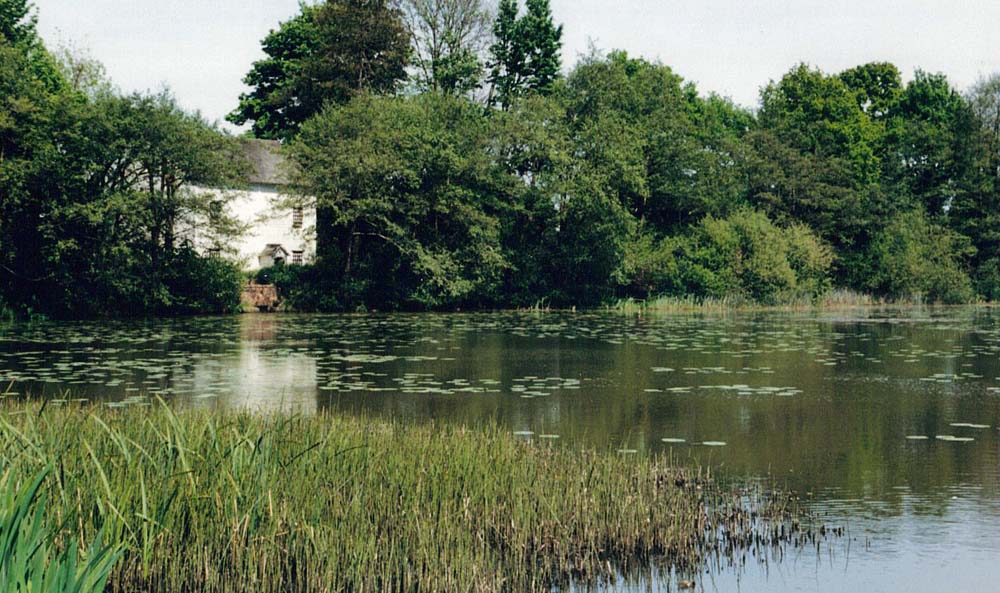 Ifield Forge Pond is set within a public open space. The footpath alongside extends to the (now dry) site of Bewbush Furnace Pond (TQ 239357), about a mile away. Sows from Bewbush were carried across to Ifield Forge by boat, or ox sled. Timber for charcoal was obtained from the surrounding Bewbush forest and deer park As the activities of the two sites were combined their history is confused: Thomas Fenner built Bewbush around 1569, but both Ifield and Bewbush were owned by Roger Gratwick in 1574. Ifield Forge was burned down by Cromwell's forces in 1643, together with other royalist ironworks nearby. Ifield's huge pond is dissected by the railway: the bay now supports a later cornmill, recently restored with a working water wheel. Ifield Mill has exhibitions on milling, iron working and other rural crafts and activities.

Inholms Copse, near Milland SU 856263

There is little documentary information about Inholms Copse Furnace but it is believed to be connected with Sir Peter Bettesworth's forge at Chithurst, circa 1632. The entire site including the working area suffered extensive damage during floods in 1968. No public access to the pond.

Milland, near Liphook

SU 832281

Milland Furnace was established by Thomas Bettesworth around l590 and supplied sows to his forge at Bramshott Hammer (see Hampshire) and possibly Chithurst Forge above.The relatively small pond is fed by numerous springs which must have provided a substantial power source, judging from the vigorously gushing spillway. This stream runs down to Chithurst Forge Pond.

Petworth SU 979180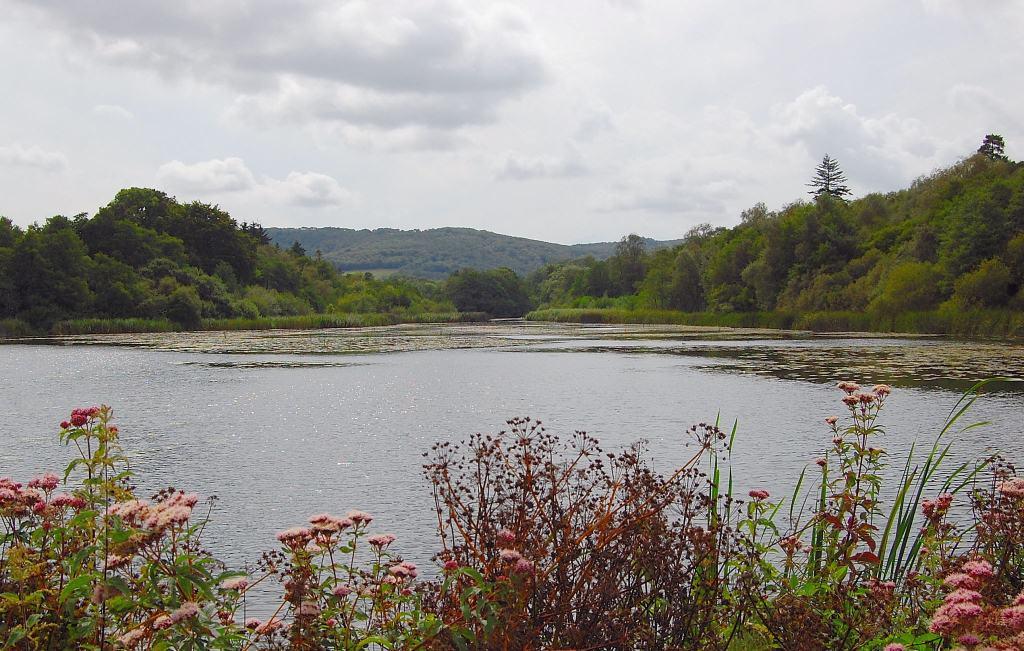 The bay of Burton Forge's spectacular hammer pond borders a minor road within a wooded nature reserve managed by the Sussex Wildlife Trust. Operated by William Goring in 1635, it is the most southerly of the West Sussex forges, supplied by springs from the South Downs. This abundant water supply enabled the forge to thrive despite being relatively distant from furnaces. The mill house, lower than the bay, later became a cornmill.
Rake SU 815269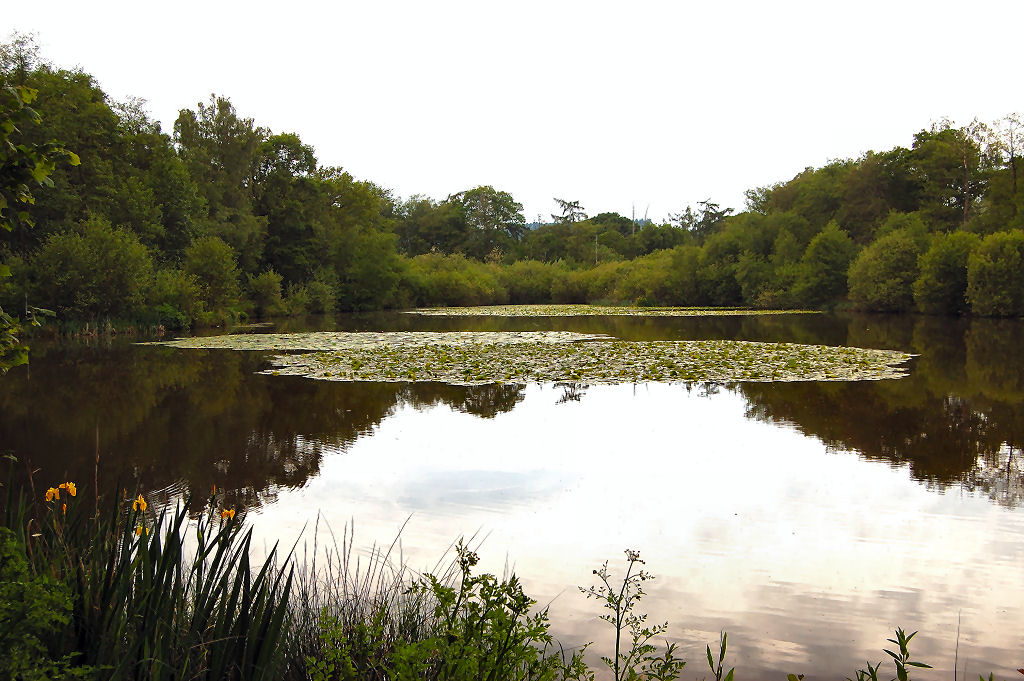 Coombe Furnace,established circa l589, was almost immediately leased to Henry Gleed and Michael Martin of Rogate. Do not confuse Coombe Pond with Cook's Pond further along the same road, which had nothing to do with the iron industry.

Rowfant TQ 316378

Robert Whitfield leased land and built a forge at Rowfant in 1556. The pond, now known as the Mill Pond, is accessible by footpath up to the bay along a private track. The original forge site is believed to be underneath 'Rowfant Studio'.

Rowfant Supra Forge Pond, leased in 1670, lies to the west in Horsepasture Wood (319372) and is marked as an antiquity on the OS map. There is no public access; however two pen ponds for this forge pond survive in the ground of nearby Elizabethan manor Rowfant House.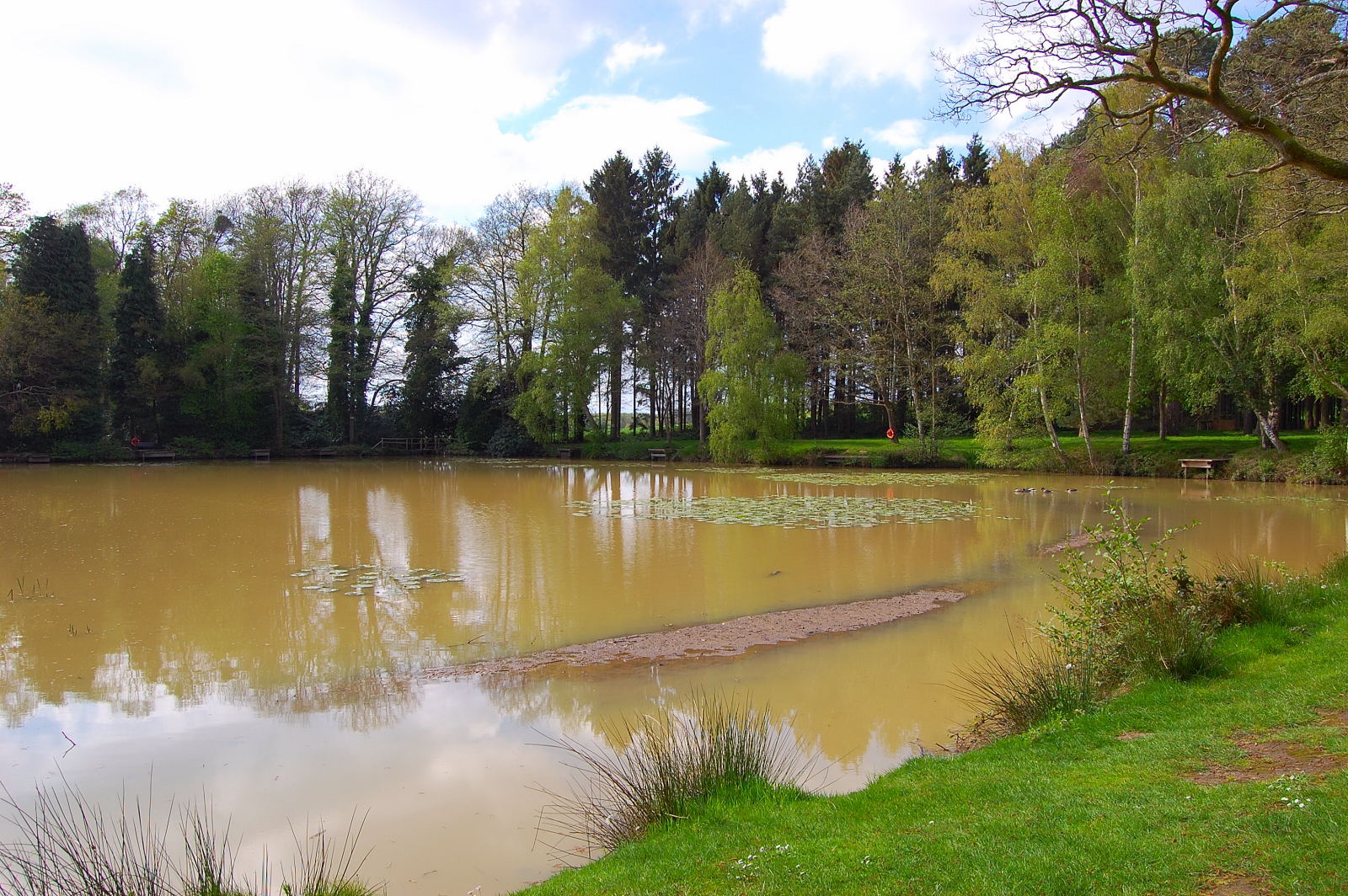 Pen Pond for Rowfant Supra Forge, Rowfant House
St Leonard's Forest, near Mannings Heath TQ 220290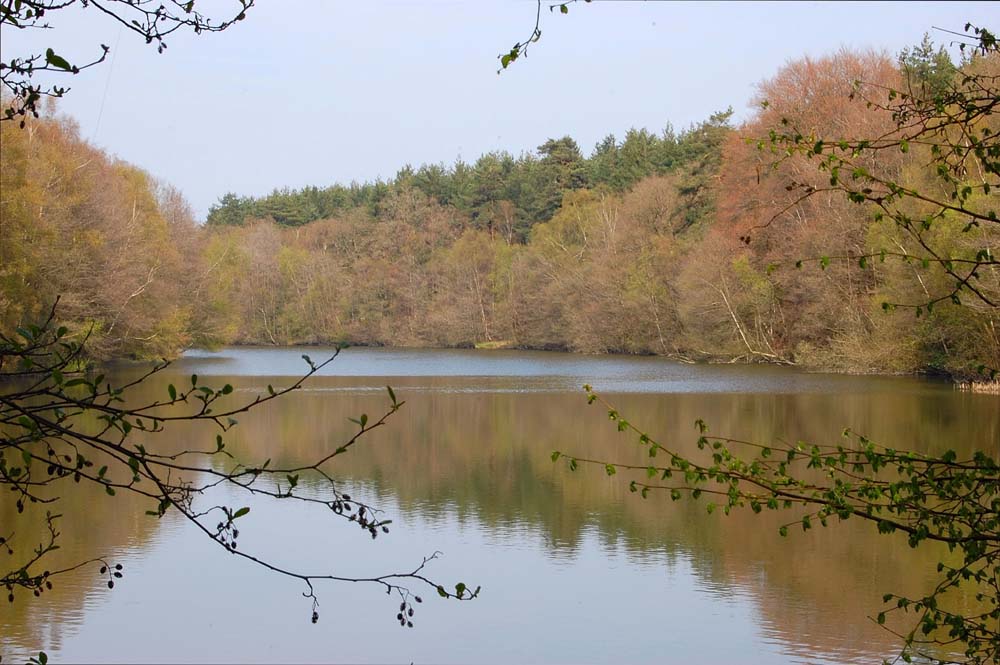 Hawkins Pond
Two extensive lakes shelter in parallel wooded valleys on Hammerpond Road, between Doomesday Green and Ashfold Crossway. Hammer Pond served St Leonard's Upper Forge. The other, Hawkins Pond (216293), was a pen pond for the original Lower Forge and Furnace Pond, now dry. The forges are believed to have been constructed circa 1561. St Leonard's Furnace competed for ore with nearby Gosden Furnace at Crabtree above, leading to bad blood and legal and physical conflicts between the owners (Straker, 1931: 436-8). Both working sites were ruined by 1664.
The furnaces probably obtained ore from the northern area of the forest, near Colgate, where there are mine pits. Carterslodge Pond, northeast at 243295 on Cartersledge Lane, was a pen pond for Hammer Pond.
Shillinglee, Kirdford SU 972308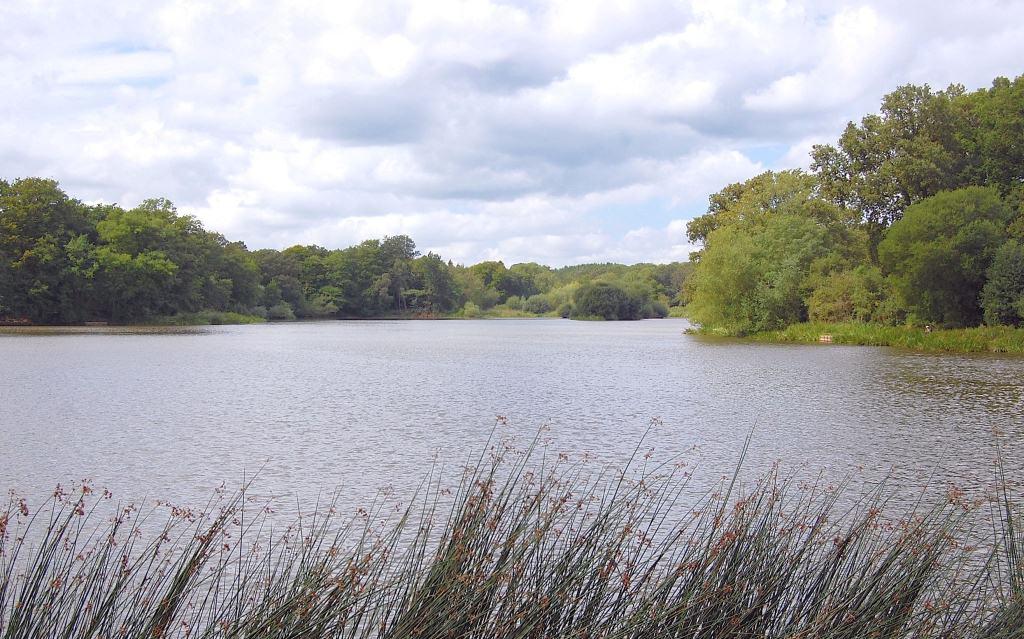 This spectacular furnace pond was built by the lessee Thomas Smythe in 1574, but closed by 1620. It is a few miles north of Ebernoe Furnace Pond (see above) and is now a private coarse fishing lake. A minor road north passes between two surviving pen ponds, Upper North and Lower North Ponds, at 963324 and 963321 by Shillinglee Park.
Shipley TQ 157211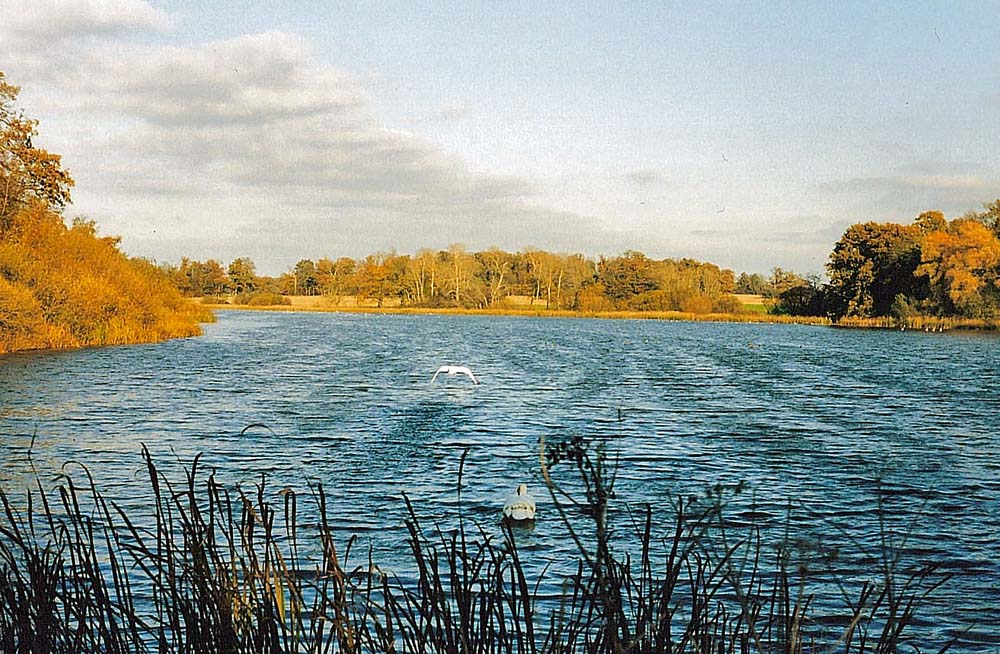 The Carylls, tenants of the Duke of Norfolk, operated Knepp Furnace circa 1568 to 1604. Much larger than the original pond, this huge lake can be viewed from the footpath on a private track, Castle Lane. This track now forms a bay at the pond where the modern 'Y' shape of the lake becomes obvious. The original furnace bay is thought have been to the east near Floodgate Farm (163211).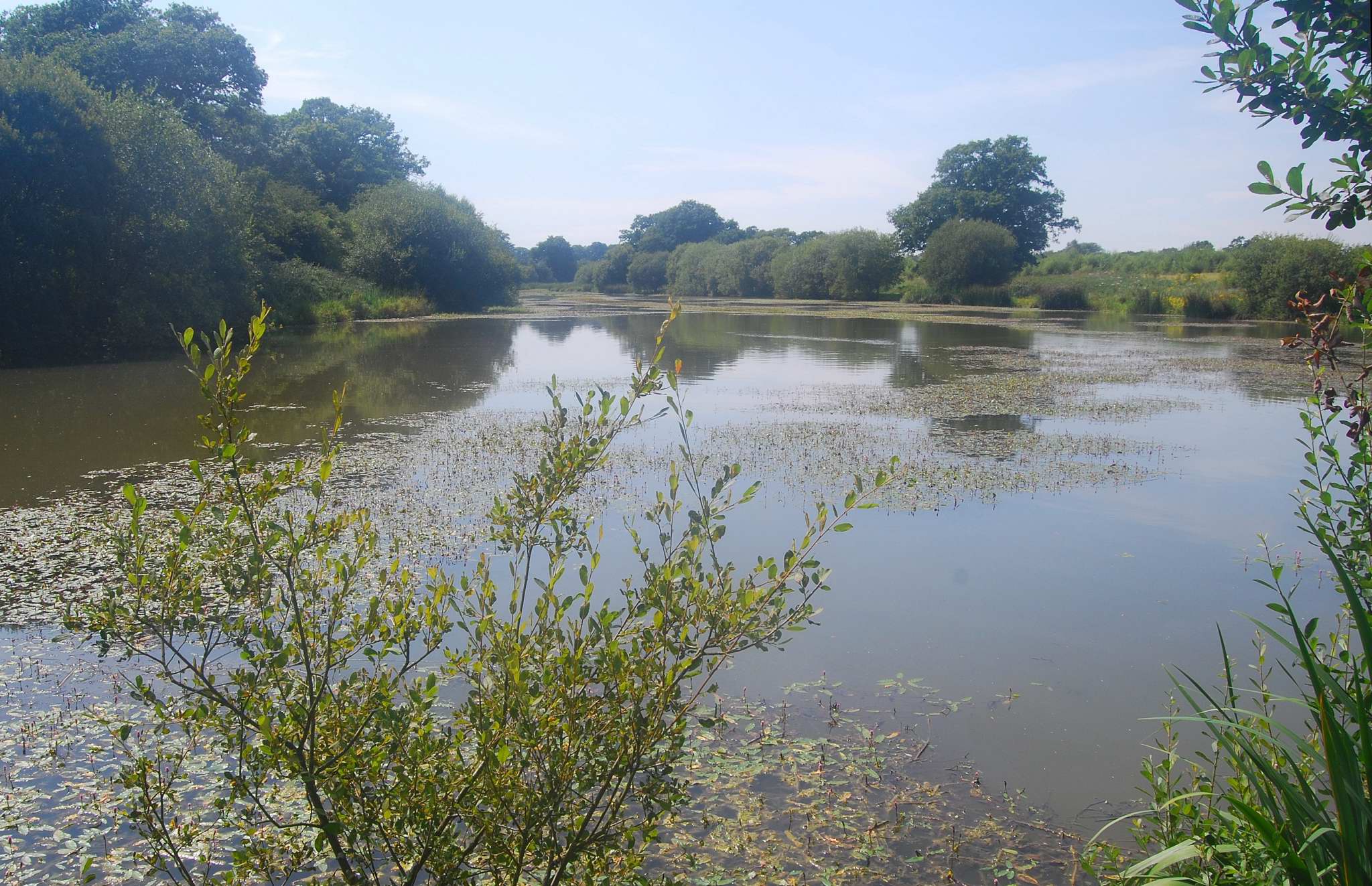 Half a mile south from here Shipley Forge Pond (just above) is recorded as dry but in fact holds water on the 'Hammer Pond' stream at 149208 near Hammer Farm, one of those 'reincarnated' ponds with a new bay. The GR for the working area of this forge may be updated some yards east by what remains of the original bay. Do not confuse the deep pool by the farm track for the huge pond above a modern bay. This forge was known to be operating around 1615, probably in conjunction with Knepp furnace.

Slaugham Pond

TQ 249282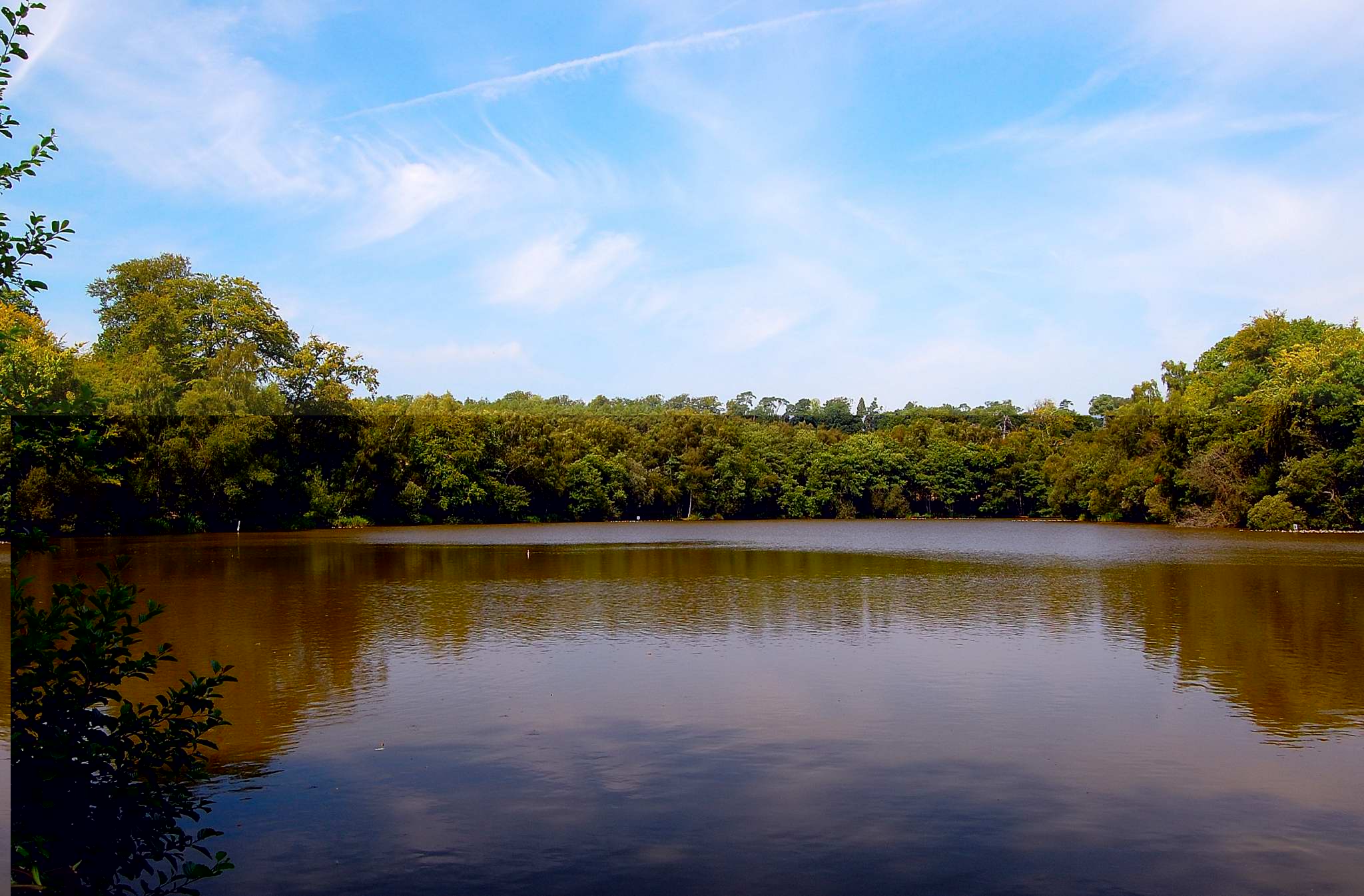 Slaugham Furnace was established by 1574 by Ninian Challoner and the local Covert family, but appears to have ceased working circa 1653. This lovely pond is easily accessible on Slaugham Common. Ashfold Lake, just north of here on private land (248286), may have been a pen pond. Neither should be confused with the ornamental pond at nearby Slaugham Place, once home to the Coverts.
Slinfold TQ 107333
Dedisham Furnace was working by 1614 but there are no more references to the ironworks after 1650. The pond is restored and converted into two private fishing lakes. Furnace House, sited slightly east of the old pond bay, was the ironmaster's house, and was later rebuilt with some of the furnace bricks.
Warnham Mill Pond, near Horsham TQ 170323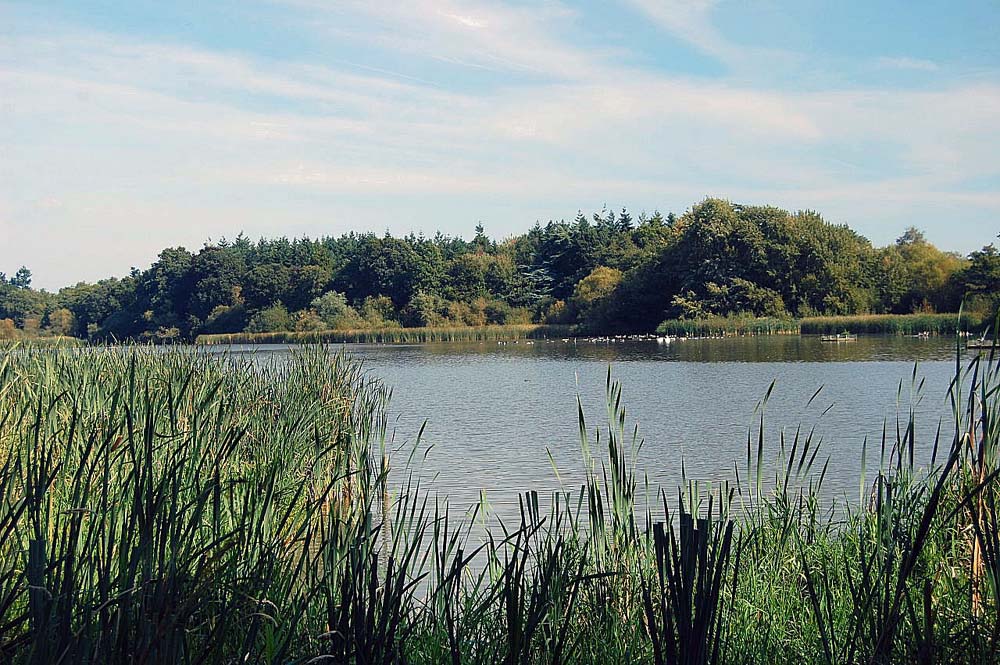 Warnham Furnace was constructed around 1583, and operated by John Caryll. This was an important cannon production site where annual draining and excavation for ironstone gradually enlarged the pond. However Parliamentarian forces destroyed the furnace during the Civil War in 1645. A few decades later the bay was converted to run a corn mill which produced flour until the 1930s. The pond has grown into a 17-acre lake within the 90-acre Warnham Nature Reserve.